Meet our Team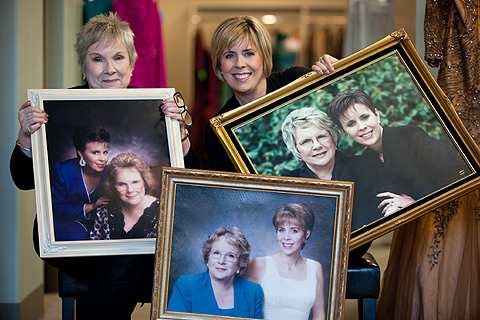 Small is the New Big!

While 2,500 in-stock special occasion dresses might not sound small, we're small in comparison to self-serve department stores, on-line big box stores with banks of telephone operators who've never actually seen the merchandise, or rogue Chinese factories who put up websites to give the illusion that they are retailers with an actual store.

Department stores buy based off of excel spreadsheets. We buy our dresses based on 25 years of hands-on experience. We carefully hand pick all of the best dresses from all of the best designers in all of the best colors in a variety of sizes ( size 0 - 28W) and price ranges. In that respect, we're unapologetically small. We love working with our customers, hearing about their families, weddings, galas, proms, Quinceaneras and other upcoming special events!

We love seeing them time and time again! We're family owned and operated and like to treat everyone as if they're friends or family. Feel free to drop by, wander through the dresses and have fun exploring on your own. If on the other hand, you are overwhelmed and need help, our staff is here to help. Every one of them has years of experience and are standing by ready to guide you through the process.

We appreciate your stopping by. If you're out of state and can't come by, we're happy to help you too! It's always a privilege to be a part of someone's very special occasion!

--------- Terrie & Barbara





Barbara Coolidge Tibbetts

As the daughter of missionaries and having grown up in Trinidad I don't think I ever imagined that some
day I would be influencing fashions for mothers whose children were getting married! (MOBs and
MOGs). And when I received my Bachelor of Music Education degree from the University of Tulsa…little
did I know my music would lead me to the Wedding business! Having attended so many weddings I find
I bring a sense of "reality" which has helped me through the years to encourage and calm sometimes
frantic MOBs and MOGs. I felt there was a need for a handbook for moms and so I wrote the book " I
Want My Mother's Dress to Match the Napkins…Funny Stories and Serious Advice for Looking Your Best
at Your Child's Wedding". At T. Carolyn we believe mothers need a place of encouragement and honest
advice because Mothers are special too.

Fast forward all these years later (since 1991) and I find myself spending more time managing all the
behind the scene activities including answering the phone. Nothing delights me more than being able to
help a lady on the phone desperate to find something to wear to her child's wedding. These calls come
from all over the United States and even foreign countries.

At my age I wouldn't be putting in the hours nor expending the energy I do if I didn't love what I do.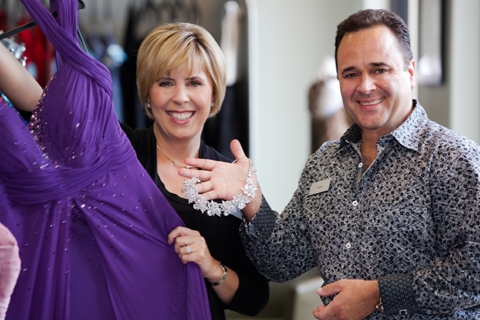 Dante
Dante, Terrie's husband, has a great eye for detail! He comes from an amazing background in pre-press, printing and graphic design. He worked for Moore North America, the 2nd largest print company in the world, at Enron and was the Senior buyer in charge of print and specialty items. He did all the purchasing for Enron Field and set up their online store.
As T. Carolyn grew it became clear that he would be a valuable asset. In addition to being "the tech guy", he is the buyer for the accessory department which includes, jewelry, clutches, items such as Hollywood Tape, and believe it or not, foundations. Yes, Dante has learned far more about what lurks under women's clothes than he ever thought he would – or signed on for. That is the penalty for being really good at your job!
Dante also works as our personal security as he is a 4th degree Black Belt who trained Special Forces in Close Quarter Combat. We all feel a little safer with him around, besides he's great at striking up conversations with the husbands. In a nutshell, he's the "yang" to our "yin"!


Terrie
I am an Aggie (Whoop!) with a degree in Economics and a minor in Management. While I got a "practical degree", I've always loved fashion. I was reading Vogue magazine from the age of 8, courtesy of my aunt. After graduating from Texas A&M University, my mother and I began an import company. After years of importing and selling to stores my mother and I decided to open our own and we've never looked back. I've been an expert witness in a federal lawsuit on copyright infringement. Yes, there is such a thing as fashion law.
I have two boys, so I really watch out for and try to help all of our Mothers of the Groom. Because I am a mother, I'm also very protective of our Mother of the Brides - because I know how insecure and vulnerable they can feel leading up to the Big Day. I really enjoy making our customers feel special and helping them celebrate their special occasions as they shop for "The Dress".
You can check out our reality show "Mother of the Bride" on You Tube now - it was aired in 37 countries.
Dante and I have been married for over 20 years. We enjoy traveling and love to go scuba diving, hiking, ziplining and anything else adventurous. Honestly, I hate cooking. If it were up to me, we would only eat salads and smoothies made in a blender. Fortunately, Dante is a great cook.
My favorite quote is "The best way to predict the future is to create it."



Lena
I'm from Lebanon, but I was born in Kuwait. My family is spread all over the world. I love to decorate, enjoy cooking, dining out with friends and family, traveling and enjoy belly dancing. I have a son, so I have a real heart for Mothers of the Groom.
I hand select every dress for all of our windows and I choose the dresses for our vignettes here in the store. I love matching the perfect clutch to a dress or gown to show off how amazing the finished look can be. We have so many different kinds of dresses and accessories I can be really creative in my displays for the store. Sometimes it takes me hours – or even all day! - to get everything "just right".
I enjoy helping our customers make their fashion decisions. It gives me great satisfaction to be able to help ladies find their perfect dress (or gown) that make them feel beautiful and amazing for their special occasions whether it's for a wedding, gala, guest at a wedding or a cruise.
Judi
I am Judi McCall from northern Maine! I've lived in Houston for 5 years. I'm a homeschooling grandma (finishing our seventh year!). I love to read, spend time with my family and friends and travel (especially to the islands!)
The desire to meet new people led me to T. Carolyn where I quickly learned that it's not just about finding the perfect dress but enjoying the experience of shopping as well. When shopping for a formal event such as their child's wedding, quite often women have insecurities, unwanted pounds, even low self-esteem. I love transforming them and showing them how beautiful they can look. T. Carolyn has been my platform for ministry to empower women to feel confident, look beautiful and know that they are worth it!!!!
Sonya
I grew up in Lafayette, Louisiana but have been a Texan since 1976. I am extremely outgoing, love life and my two daughters are my world. They kept me busy for years in sports and competitive cheer. I have boundless energy, like Donald Trump I never sleep. I don't know a stranger. I've literally been on the other side of the world and have run into people I know.
While I have a background in oil and gas, my first love is fashion. I've been styling ladies for 6 years and find that its such a wonderful feeling knowing that you can make someone feel special and help take the stress out of finding "the dress". The smile from a customer is a huge reward!
I have worked for 6 years at Chico's and am so glad to be here at T. Carolyn. This is a very different kind of store. I enjoy giving all of my customers the special attention they need whether its for Mother of the Bride, Mother of the Groom, gala or other special occasion.






"Mother of the Bride" first showed in Canada on Slice (www.slice.ca) in 2013. Now showing in over 35 other countries.
Terrie, Barbara, Dante and Staff were the focus of a new television series about mothers of the bride and mothers of the groom. Though somewhat exhausting, it was an incredible experience for all who participated. We are asked on a daily basis when the show will begin to air. As soon as the American broadcaster has been decided we will announce when and where the show can be seen by the American public. A special thanks to all who chose to participate! It has been a great experience!

We wanted to share press hits for Mother of The Bride.....thanks!
Houston
culturemap HOUSTON article about T. Carolyn's Mother of the Bride reality show!
Canada.com
Terrie quoted in Canada.com article
Terrie's latest blog in the Huffington Post:

Terrie's blog post in the Huffington Post
The book that inspired the television series........




Tips for the Mother of the Bride
Bride & Groom - Ask the Expert Article

Austin Article

Experts offer brides stress-busting tips for the months leading up to the big day. 
Appeared in print: Thursday, Jan 7, 2010

Article published November 01, 2009

Check out great articles and news updates
By ALICE ADAMS,
Bridal Correspondent
---
The best of times - a wedding in the family - often becomes the worst of times for mothers of the bride or groom seeking that ``perfect'' dress or gown for the occasion.
Some moms, as soon as the happy couple sets the date, begin their quest for just the right outfit, which will be captured by photographers and will exist in the family's archives. Other mothers delay their wedding fashion search until the last minute, often finding themselves stressed and stymied when dreams don't meet reality. ``The problem is that mothers always put themselves last,'' said one manufacturer of special occasion dresses. ``They leave their dress choices until the last minute, and they don't give themselves enough time to get the dress they want.'' But what makes this one fashion selection so important?
Without a doubt, the wedding that sends a son or a daughter off to begin life with their chosen partner is, indeed, a special day in the life of any mother. While her son or daughter will be in the spotlight, mom is also a major focus, serving as the hostess of the event or as an honored guest, greeting friends and mingling with family, old and new, throughout the day or evening. What Mom selects to wear on this occasion is definitely no small decision.
Barbara Tibbetts and her daughter Terrie, co-owners of T. Carolyn Fashions in Champions and Houston's grande dames of fashion for mothers of the wedding, make this important choice easier, thanks to their years of experience and more than a decade of finding just the right look for thousands of moms.
Tibbetts, a musician who performed for hundreds of weddings throughout the country, and her daughter Terrie, talented fashion designer and consultant/designer for Miss Texas and Miss Universe pageant gowns, joined forces in 1991 when they opened their shop, becoming the country's first exclusive boutique for mothers of the wedding.
``We were bombarded with requests for fashions for mothers of the bride and groom, so that became our exclusive domain,'' Tibbetts explained. Today, T. Carolyn Fashions works with more than 50 designers, offers more than 2,500 styles and dresses moms of all shapes and sizes, from a petite size two to size 26.
The mother of the wedding will spend an average ranging from $200 to $500. Dresses available at T. Carolyn Fashions range from $99 on the sale rack and go up to almost $1,200. ``We are here for the mothers, as guides, friends and sometimes shoulders to cry on,'' said Tibbetts, who characterizes the store's team of consultants as ``women who love what they do.'' All of them love coming to work, she said. ``They love performing instant makeovers and making the women who come to us for fashion feel good about themselves.''
The fashion consultant is currently writing a book about fashions for mothers of the wedding and offers several ``rules of thumb'' for the mother of the bride- or groom-to-be, although she said there are really no strict rules when it comes to what mothers wear. ``If you start looking six months before the wedding, you'll have best of the possibilities'' she said. ``This six-month time frame provides plenty of time to order a dress in another size and color, if they are available.'' She also counsels moms not to get their hearts set on something that may not exist. ``It is far better to find something that is available,'' Tibbetts said, adding that she has seen some women searching for the so-called "holy grail'' of mother of the wedding fashions, something that may not be available.
``Colors are decided three years in advance by an international color council, so every color is not made every year,'' she explained, ``Instead of finding what could work, some moms drive themselves crazy looking for something that isn't there.'' Tibbetts said she also encourages women to broaden their horizons. ``It's better not to get your ideas locked in a box,'' she said. ``Allow someone with expertise to show you something that may work very well, someone with experience who can cut through to the two most important things a mother of the wedding must do on the day of the wedding '? look your best and show up.''
The fashion consultant said she approaches the selection process from a very practical standpoint. ``People get so caught up in themes and colors, they often find themselves wearing a color or a style that isn't flattering,'' she explained. ``When you get right down to it, mothers fall into the guest category, sitting on one of the front two pews and surrounded by people who selected what they would wear to the occasion so they would look their best.''
One mother-of-the-groom was assigned to select her dress in mauve, a color Tibbetts classifies as one of the worst for most women over 40. ``I will ask my customers, 'What do you wear when you get the most compliments?' That's where we begin,'' she said. In selecting colors, some moms want to wear pastels in summer and bolder colors in winter, but Tibbetts said she takes them back to what colors bring them the most compliments. ``If bold colors are your best, wear what makes you look and feel good,'' she said. ``After all, this is the second most photographed event of your life, so you want the color and style that works best for you."
She also said that style and color are the two most important aspects of selecting the right dress.
``We look at color first because it will either make or break a dress. If you're in the right color, the eye will go to the color, not the figure,'' Tibbetts explained. ``I can take an exquisitely expensive dress or a dress from the sale rack and if we've chosen color and style wisely, both will look equally good - and will fit into whatever budget the mom has to work with.'' In selecting fashion for the mother of the wedding, however, it really boils down to what the men are wearing. ``If men are wearing tuxedos, the mother's dress or gown needs to match - and that's not a church dress although you don't need to be spangled from head to toe either,'' she said. ``Other rules say if bridesmaids wear long gowns, the mothers can choose long or any length, but if the bridesmaids are wearing tea length dresses, the mothers' dresses shouldn't go to the floor. If one mother selects a long gown, the other mother should also wear a long gown. It is a matter of balance and symmetry.''
Many times a shorter woman will tend to select short hemlines with a rationale of looking taller, but Tibbetts said there's nothing better than fabric going all the way to the floor to make a woman look taller. ``There are so few times in life when you get a chance to wear a long dress,'' she said, ``and one of the things we think about when we're selecting styles during market is: if the design has an afterlife can it be worn after the wedding. When you select a long gown, you can wear it on a cruise and sometimes the skirt can be cut to cocktail length for additional wearings.''
Ultimately, Tibbetts said, mothers of the wedding should seek the assistance and expertise of professionals. ``Let people with experience show you something within your budget that will be magnificent and will make you feel your most confident best,'' she counseled. ``If you don't like it, ask to see something else. Begin your search for the dress you will wear to the wedding about three months before the event and then look beautiful and enjoy the day,'' she added. "Let people with experience show you something that will make you feel your best," she said
---

Mother of the bride fashions
By K. Pica Kahn
Bridal Correspondent

When Norma Short's son got married, she traveled all the way from Scotland to buy her dress. Standing in the photograph between her husband, son, and son-in-law who were all clad in kilts, Short scribbled a note to T.Carolyn that said, "Thanks for the beautiful dress, it made the wedding perfect."
Mothers of the brides want to look their best as they walk down the aisle. Terrie and Barbara Tibbetts, daughter and mother as well as co-owners of T.Carolyn, pride themselves in finding just the right dress for that special occasion.
"The bride's dress is a costume, but the mother's dress is something she will wear again and again," said the mom, Barbara. "When we go to market, my daughter always says 'does it pass the wear again test?" Our staff is trained to tell the customer the truth and to find what looks good on them. On our staff we have an ex-model and a former politician who is acquainted with the attire of visitors to the White House. We want people to notice the person, not the dress. If at least five people don't tell the mother how pretty she looked, we haven't done our job." The team has been selling mother of the bride dresses for over a decade. Until recently, they owned the only such store in the country.
"I think there are three stores like this in the country now," said Barbara. "We were written up in the San Francisco Chronicle as the No. 1 place to shop for mothers' dresses in the country.
"T.Carolyn carries some 2,500 dresses in sizes from two petite to 36 women. The dresses range in price from $155 to $1,200 with most going for between $200 and $500.
Both women have experience in working abroad. The mother had an import business and the daughter, who is also a designer, was sent to India as a consultant for beaded garments. This continental experience is an asset for their customers who depend on their knowledge.
"We had one woman who flew in from England, came straight from Bush Intercontinental Airport, bought the dress and went right back to the airport and flew to Colorado for her son's wedding," said Barbara. " Another woman was in line at the Kremlin and the woman behind her overheard her discussing the family's wedding. The Houston woman told the woman in line that she just had to come to our shop.
"Another customer who owns two safari lodges in Africa was marrying a National Georgraphic photographer and came in, bought her dress, then went back to Africa to be married. She sent us a photograph of her in the dress at her wedding. It was wonderful. I am writing a book about all these funny things. It will be called 'A Funny Thing Happened on the Way to the Wedding.'